His eyes suddenly open to a huge rocky terrain covered in snow as the cold winds cut through the air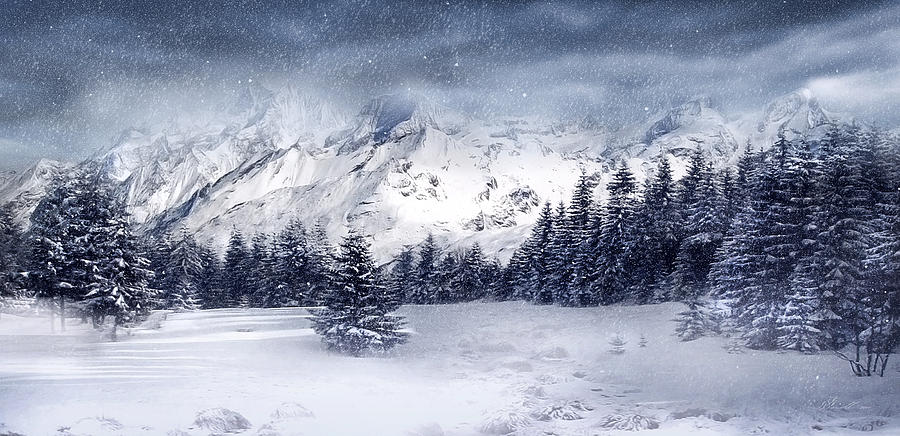 He looked around slowly and carefully before he started walking,he realized he was in his wolf form,as refreshing as it would be he didnt use it very often as it was such a clear indication to his breeding and lineage,his blue eyes travel over the empty terrain around him with nothing but trees as company,still he felt something pulling him further.
The snow was deeper and deeper with every passing minute,his thoughts were so far away that he barely noticed a crossroad ,in front of which was a familiar girl
"What are you doing here?"
"want me to go with you?" she smiled warmly to him,her eyes flaming with that well known confidant look that became her signature
"Are you insane? I dont even know where im going..."
"Its been suggested"she kept the same warm smile for him
"but...why?"
"Because i care for you,you are close to me,and i take care of such."
he looks at her carefully not sure what to think before nodding "thanks...this was really starting to scare me..."
"Its ok,real warriors accept fear and turn it into their fuel,i should know" she chuckles
He nodded,and after a short pause started walking down the same direction he was already on before he saw her.Her presence made him feel different,she was one of the two only people that made him feel like he was not alone,he didnt know why,the rest of the hounds were dark spiteful and violent,each only looking out for themselves. And at other times,they were all so warm and loving,but he was always the outsider who didnt understand them no matter how much he tried,at best-he would be ignored. He looked up to the beautiful girl walking with her chin held high and still holding the same smile that made him feel as if he was among family
"you know im gonna help you on this path,dont look at me like that-its my own choice to go." she said as she felt his eyes on her,the path was becoming tighter and tighter now cornered by dead black trees bending over them like demons waiting for them to fall from both left and right.She suddenly stops her face turning into a dark expression of seeing an enemy,she stands protectively next to him "Be careful,up ahead." he looks over to her direction of view to see a disturbing sight,it was a dark figure covered by the darkness of the trees that hid him from Luna's powerful light
" I waited for you,for so so long my precious prince,now we can finally go together to where our destiny lies. "
His voice was smooth yet deep,firm yet it made the wolf shiver,the figure steps up into the light slowly revealing it self
"You know this guy Zayne?"
Zayne watched with his eyes wide and his jaw dropped before quetly wording "its....its me..in glabro....without dying and roughing my hair up..."
"well what the hell does he want?"
"it...he...."He lowers his haid "to take over."
He understood now,this wasnt the real world,it was all happening in his head
"yeah? lets see how he plans on doing that" She cracks her neck and stands in front of Zayne ready to launch herself at the approaching man
My beloved prince I know how you feel,i know you are alone and that she is one of the rare lights in your life so If you surrender i will let her live.Because i love you.You know in your heart she cant defeat me.
The girl was already on her way to the man,her fist glowing a blue light as she releases a wave of same colored fire into him,the man simply stopped these flames by raising his shield,she was already moving to his unprotected side ready to attack when suddenly he raises a big blade that shines and whistles through the air,Zayne could swear he heard it demand blood,its Beliar-but its somehow different. The blade swings down on the girl who moves out of the way but still the blade cuts down her thigh leaving a spray of blood on the white snow,the girl grits her teeth,this time in her palms a darker and more vicious flames start glimmering
"ENOUGH!" Zayne's growl echoes through the tundra "I give up,dont hurt her..." the man stopped in his swing for the next attack,but the girl kept attacking,wave after wave of fire spread but with no affect on him .he smiles at her
Its over for you.He is mine alone
she started yelling out to Zayne,reaching for his hand as everything starts moving slower and slower,he opens his eyes to a new image,he is at the crossroads again,looking down..he then sees her laying,where she lays flowers grow and light follows,where he stands darkness crawls and the winds cut.He fell to his knees in front of her now noticing he is not in his wolf form,he is in glabro again,but he isnt wearing his dedicated clothes,nor his hounds jacket,nor his royal armor,he is in black regalia that his duplicate wore a minute ago
he looks at her laying and suddenly grits his teeth as he feels his teeth growing into sharp fanged daggers
EAT HER!!! EAT HER!! EAT HER!! EAT HER!!
Zayne pulls on his hair angrily with a scream for help before suddenly hearing another voice flow to him as if it came from a different shore of reality as he slowly starts hearing that voice arrive,he also listens to another one that slowly fades "You changed...this isnt you...",he opens his eyes to see Eva tugging at him
"Wake up,you're having nightmares." she gently moves her hand over his forehead moving his hair away from his face and whipes the sweat off of his face with a tissue "its ok now,youre home hon."
"What are you doing here?" he asked still breathing in and out deeply as he stood up,he was fully dressed with his jacket on as well,yes,he was so tired from containing his rage last night he just collapsed in the bed
"Darling i havent closed my eyes for longer then a blink since ive been surrounded by destructo-toddlers" she smiles "i heard you scream way over in the rv" he nods
"sorry,wont happen again"
"Zayne,im coming with you,its my choice,you know i will follow you and help you on your path." she gently touched his shoulder as she left the tent to give him some privacy,Zayne was in shock after hearing that for the next 5 minutes,slowly looking at the mirror he noticed something....he's been crying
[left]